I. Introduction
Definition of sustainable building materials
Importance of green housing
Purpose of the article
II. What are Sustainable Building Materials for Green Housing?
A. Bamboo
1. Characteristics and benefits of bamboo
2. Usage in construction
3. Examples of bamboo-based green housing projects
B. Recycled Materials
1. Advantages of using recycled materials
2. Types of recycled materials for green housing
3. Successful examples of recycled material usage
C. Hempcrete
1. Features and advantages of hempcrete
2. Application in green building
3. Notable hempcrete projects worldwide
D. Cork
1. Properties and benefits of cork
2. Cork applications in sustainable construction
3. Showcasing cork in eco-friendly housing designs
E. Rammed Earth
1. Characteristics and advantages of rammed earth
2. Construction techniques for rammed earth buildings
3. Showcasing rammed earth in green housing projects
F. Solar Panels
1. Sustainability benefits of solar panels
2. Integration of solar panels in green housing
3. Noteworthy examples of solar-powered green homes
III. Frequently Asked Questions (FAQs)
What are some other sustainable building materials for green housing?
Are sustainable building materials more expensive?
Can sustainable building materials be used in traditional construction?
IV. Conclusion
Summary of sustainable building materials for green housing
Encouragement for the use of eco-friendly materials
Final thoughts on the future of sustainable construction
---
Introduction
Green housing, also known as sustainable or eco-friendly housing, is gaining popularity as individuals and communities recognize the importance of reducing their environmental impact. Constructing environmentally responsible buildings involves various considerations, including the choice of sustainable building materials. This article explores what are some sustainable building materials for green housing and highlights their advantages and applications. By utilizing these materials, we can promote a more sustainable and greener future for our homes and communities.
What are Sustainable Building Materials for Green Housing?
When it comes to sustainable building materials, numerous options are available, each with its unique characteristics and benefits. By incorporating these materials into construction projects, we can minimize resource consumption, reduce waste, and decrease the carbon footprint of buildings. Let's delve into some of the most noteworthy sustainable building materials for green housing: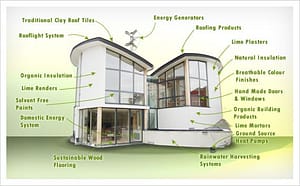 1. Bamboo
Bamboo, a versatile and rapidly renewable resource, has gained recognition as an excellent sustainable building material.
With its impressive strength-to-weight ratio, bamboo provides a sturdy and durable construction option.
Bamboo grows quickly, making it a highly sustainable alternative to traditional timber.
Its natural growth properties make it resistant to pests, minimizing the need for chemical treatments.
Bamboo finds applications in various aspects of construction, including:
Structural elements such as columns, beams, and trusses
Flooring and wall panels
Roofing and thatching
Furniture and decorative elements
Several inspiring bamboo-based green housing projects have successfully showcased its potential. Examples include the Bamboo House in Bali, Indonesia, and the Green Village in Bali, which features stunning bamboo villas surrounded by sustainable bamboo forests.
2. Recycled Materials
Using recycled materials is an excellent way to reduce waste and promote sustainability in construction.
Recycled materials, such as reclaimed wood, salvaged bricks, and recycled metal, can help minimize the extraction of new resources.
These materials often possess unique characteristics, providing a distinct aesthetic appeal to buildings.
Incorporating recycled materials into green housing projects also helps divert waste from landfills and contributes to a circular economy.
Some common types of recycled materials used in green housing include:
Reclaimed wood: Salvaged from old buildings, barns, or industrial sites, reclaimed wood adds character and warmth to sustainable homes. It can be used for flooring, wall cladding, beams, and furniture.
Salvaged bricks: Bricks salvaged from demolished structures can be cleaned and reused in new construction, reducing the demand for new bricks and conserving energy.
Recycled metal: Scrap metal, such as steel and aluminum, can be melted down and transformed into structural components or decorative elements for green buildings.
Numerous successful examples demonstrate the use of recycled materials in green housing. For instance, the Waste House in Brighton, England, was constructed using approximately 20,000 toothbrushes, 4,000 DVD cases, and other recycled materials, showcasing the possibilities of waste reduction and resource reuse in sustainable construction.
3. Hempcrete
Hempcrete, a bio-composite material made from hemp fibers, lime, and water, offers several advantages as a sustainable building material.
Hemp is a fast-growing plant that requires minimal water and no pesticides or herbicides, making it an eco-friendly and renewable resource.
Hempcrete has excellent thermal performance, providing insulation and reducing energy consumption for heating and cooling.
This material is also breathable and regulates humidity, contributing to healthier indoor air quality.
Hempcrete can be used for various applications in green building, including:
Wall construction
Insulation
Flooring
Plastering
Notable projects that have utilized hempcrete include the Gatehouse in Scotland, which features hempcrete walls and demonstrates its viability as a sustainable and energy-efficient construction material.
4. Cork
Cork, derived from the bark of the cork oak tree, is a versatile and sustainable material that offers numerous benefits for green housing.
Cork harvesting is a sustainable practice that doesn't harm the tree, as the bark regenerates over time.
Cork has excellent insulating properties, reducing energy consumption and providing acoustic insulation.
The material is fire-resistant, hypoallergenic, and resistant to mold and pests.
Cork can be used in various ways in sustainable construction, including:
Flooring
Wall and ceiling coverings
Insulation panels
Roofing materials
Many eco-friendly housing designs showcase the use of cork. The Cork House in Eton, England, demonstrates the potential of cork as a primary construction material, employing it for walls, floors, and roofs to create a thermally efficient and sustainable home.
5. Rammed Earth
Rammed earth, an ancient building technique, involves compressing a mixture of earth, sand, gravel, and stabilizers within formwork to create load-bearing walls.
Rammed earth offers exceptional thermal mass, absorbing and releasing heat slowly, which helps regulate indoor temperatures.
The material is durable, low-maintenance, and has a long lifespan, reducing the need for frequent repairs or replacements.
Rammed earth construction minimizes the use of traditional materials like bricks or concrete, resulting in reduced carbon emissions.
The construction process for rammed earth buildings typically involves:
Preparing the earth mixture
Compacting the mixture within formwork
Allowing the walls to cure and dry
Rammed earth has been successfully incorporated into various green housing projects worldwide. The Earth House Estate Lättenstrasse in Switzerland showcases the use of rammed earth for its walls, creating an eco-friendly and energy-efficient residential complex.
6. Solar Panels
Solar panels, also known as photovoltaic (PV) panels, capture sunlight and convert it into electricity. They play a crucial role in sustainable building design by harnessing renewable energy.
Solar panels provide a clean and renewable source of electricity, reducing reliance on fossil fuels and mitigating greenhouse gas emissions.
They can be integrated into the design of green homes through rooftop installations or as part of building facades.
Solar energy can be used to power various electrical systems in green housing, including lighting, heating, cooling, and appliances.
Notable examples of solar-powered green homes include the Solar Decathlon competition, where student teams design and construct energy-efficient homes powered entirely by solar energy. These projects demonstrate the feasibility and benefits of solar panels in sustainable housing.
Frequently Asked Questions (FAQs)
What are some other sustainable building materials for green housing?

Some other sustainable building materials include straw bales, recycled plastic, earthbag construction, and cross-laminated timber (CLT). These materials offer unique characteristics and advantages in terms of sustainability and energy efficiency.

Are sustainable building materials more expensive?

While some sustainable building materials may initially have a higher cost, it's essential to consider the long-term benefits they provide. Sustainable materials can contribute to energy savings, reduced maintenance costs, and improved indoor air quality, which can offset the initial investment.

Can sustainable building materials be used in traditional construction?

Yes, sustainable building materials can be incorporated into traditional construction practices. They offer opportunities to enhance the energy efficiency and environmental performance of conventional buildings without compromising structural integrity or aesthetics.
Choosing the right building materials is crucial when aiming to construct sustainable and eco-friendly homes. By utilizing sustainable building materials, such as bamboo, recycled materials, hempcrete, cork, rammed earth, and solar panels, we can minimize environmental impact and promote energy efficiency. These materials offer a range of benefits, including renewable resources, reduced waste, improved thermal performance, and lower energy consumption.
As individuals and communities become more aware of the importance of green housing, the demand for sustainable building materials continues to grow. Embracing these materials not only contributes to a greener future but also creates healthier and more comfortable living spaces. By integrating sustainable materials into construction practices, we can make a positive impact on the environment and pave the way for a sustainable and resilient future.