The HR department of a construction company is faced with numerous HR-related tasks every day including attracting new employees, keeping and energizing existing employees as well as providing current training and benefits, all while maintaining conformity. This is a huge task when you consider that businesses working in the construction sector have to adhere to strict regulations from the government regarding safety and management of workforces or risk paying massive penalties. Fortunately, HR professionals in the construction industry and managers have access to methods and tools to help resolve problems with compliance in the field of construction.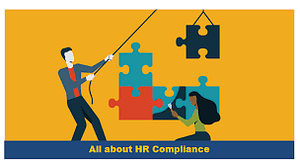 Overtime Compliance
The Problem: Not Paying employees for earned overtime. The Department of Labor's (DOL) Wage and Hour Division enforces overtime and regular payment in accordance with the Fair Labor Standards Act (FLSA). The FLSA stipulates that employers are required to pay workers at minimum their minimum wages for each hour employed, and the time and a half required for overtime, and keep precise documents. If it's done by hand, compliance could be a lengthy time, and failing to get it right could lead to costly mistakes. Fines for back wages that are not paid could be as high as $100,000-$200,000 and that's in addition to any punitive or civil costs in the event of FLSA overtime violations. It's clear that these are problems to be avoided.
The Solution to track employee time accurately. A time-tracking app can aid in ensuring HR compliance by making sure that your employees get paid for every cent they've earned, even overtime. Time clock apps can track the hours that your employees are working, and will automatically transmit the information directly to the payroll software. The time tracking applications don't alter numbers, allow employees to go home for the weekend without reporting their hours, or rely on a person to read the handwriting that is sloppy. The information is safe and precise. It is much easier to maintain compliance and requires less effort for you when employees must digitally sign off their working hours, which includes overtime hours.
Safety Compliance
The problem is that you are not taking the required safety training. In the Occupational Health and Safety Administration (OSHA) provides 15 categories of high-level for general health and safety provisions within the construction's US Code of Federal Regulations. The OSHA construction rules and guidelines must be followed by all construction firms to ensure worker and site security. Employees, both new and experienced, must adhere to OSHA's standards and remain current in terms of training, regulations and certificates.
Construction workers are in the field, and bringing their training sessions can be a nightmare logistically. It's also common for the training to not be interesting, meaning that nobody takes part and it's impossible to confirm that everyone has completed the course or ratified on it. It is crucial in ensuring safe and secure workplaces. In the third period of the year 2021's quarter, OSHA penalized a business over $1 million for safety violations. Other companies were fined in hundreds of thousands of dollars.
The solution: Use an LMS to offer accessible and engaging training. An LMS (learning management system) (LMS) provides construction firms with the necessary flexibility in the field of training in the workplace and maintaining HR compliance. An LMS can be used to host and provide training. It is able to be used on a computer, kiosk, or mobile device. Employees can take part in necessary training and update their certifications via their computers or mobile devices anytime while the LMS tracks completion as well as any certificates. To meet OSHA safety-related requirements businesses can integrate their LMS with approved trainings designed by experts in the field like ClickSafety. These courses have been approved by OSHA and are automatically regularly updated. They are also available in other languages , ensuring that employees receive the most effective training. .
Hiring Compliance
The issue is maintaining EEO compliance and recordkeeping. Recruitment of candidates involves lots of work, including finding out what skills and competencies are required for the job in the first place, preparing an accurate job description, marketing to the most qualified candidates , and sorting through applicants' resumes. In addition to getting quality employees quickly federal government contractors have to adhere to the standards established by the Office of Federal Contract Compliance Programs (OFCCP) such as establishing the Affirmative Action Plan (AAP) and maintaining detailed record of all applicants as well as new hires. The difficulty is the HR team for your construction company must not only make sure that they're following the regulations, but they also have to keep track of changes and ensure that job advertisements have the proper language. If you're not complying with OFCCP guidelines, you'll not get government contracts, and your bottom line could be affected. Plus fines for discrimination against workers can up to $300,000.
The solution: using an ATS that can accurately post jobs and track applicants. The proper application tracking system (ATS) can automate a lot of the hiring processes that HR professionals must adhere to. It should also include the option of a self-identification survey to facilitate AAP reporting, monitor the effectiveness of good faith recruitment efforts and store all information about the candidate and keep up-to-date all forms, such as W-9s. HR software must also include any EEO tags in job advertisements and ensure that they aren't accidentally lost. An ATS allows you to not only manage your recruitment strategies across different channels, but also reduces risk and ensure compliance. Automating manual processes will allow recruiters or hiring executives to devote more time with candidates for construction and spend less time on documents. An ATS that tracks and categorize applicants according to the skills and qualifications they possess can simplify and greatly speed up the process of hiring, giving your construction business a advantage during the current labor shortage.
If you do not use HR software similar to the ones in the previous paragraphs (Time Clock, App for Time,, and LMS) It's the perfect time to upgrade and make use of the most appropriate tools in the field of technology for construction HR. The manual processes that still rely on paper are not just slow compared to digital processes, but also pose an issue of security and compliance. Your employees' personal information contains sensitive data which if handled by a manual or insecure procedure could easily be and lost, or be in inappropriate hands. Look into a modular solution that will grow with your business, so that you're only engaging your CFO and CEO once to secure the cost of the investment.